Did you know that any sexual act is "femdom" as soon as a femdom is calling the shots? It doesn't matter if it's penis-in-vagina intercourse, a blowjob, a femdom handjob, oral sex, rimming, or even giving her submissive a back massage – if that's what she wants to do (and everybody consents), that makes it a femdom activity.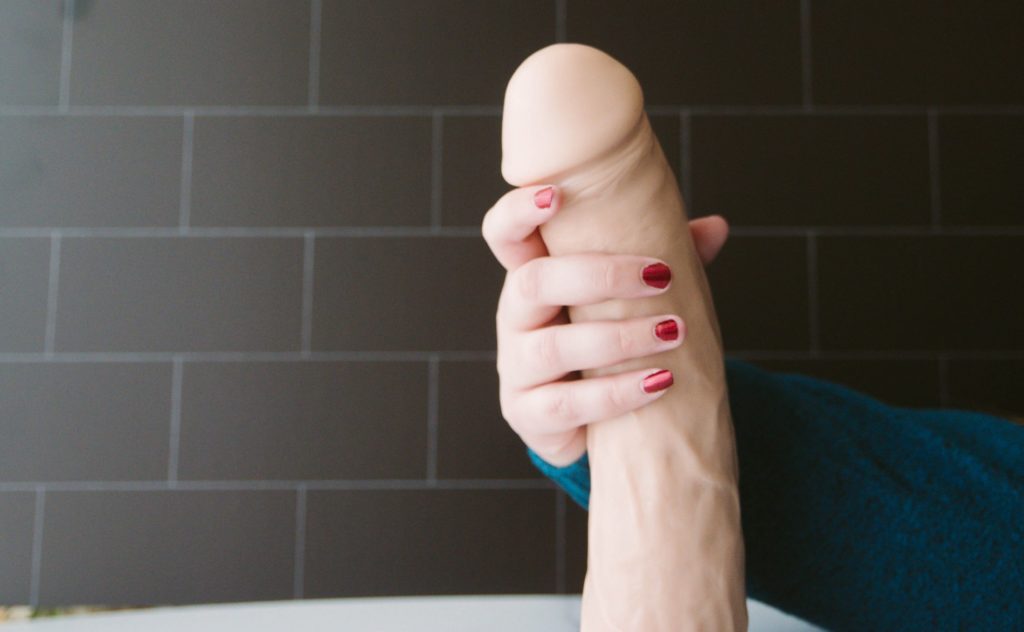 I'm sure you've seen these types of "femdom handjobs" before – like on sex chat sites. Those handjobs might feature a femdom stroking a dildo while providing dirty talk – or stroking a penis while simultaneously providing a strip show all for his pleasure. You may have seen elaborate set-ups where there are timers going off constantly – or the submissive is expected to perform elaborate feats during the handjob to "earn" the right to cum.
Sometimes I think we get way too "caught up" in the idea that everything needs to be "dominating" to be "femdom". Especially brought on by the bullshit of stereotypical tropes that is femdom porn, there can be this weird "box" that femdoms feel like they need to fit into in order to be a "real" femdom. It can feel like a woman isn't allowed to lay back and enjoy a sexual activity that isn't humiliating their partner because then they "won't be a femdom!" Oh noooooo.
Truth be told, the vast majority of my play with submissives tends to involve handjobs. I find penises – especially erect – to be super-fun to play with. I get genuine enjoyment out of playing with erections, feeling them in my hands, and watching the owner of that erection turn into a desperate, slobbering mess who just wants me to finally let them orgasm.
I'd, honestly, probably explore giving handjobs to pretty much any available submissive out there if there weren't personal safety issues involved in sexual activities with unknown strangers. I find handjobs to be fun as hell all to themselves.
So, the best way how to give a femdom handjob? A femdom gives a handjob. That's it. Honestly and truly. If she wants to give a handjob – and does – while the other participant knows that they are the submissive/bottom in this scene, it's a femdom handjob. Lovely!
That'd be a pretty short article, though, and not particularly helpful, so if you're looking for more ways to assert your dominance (or feel domme-ly) while giving a handjob without all of the theatrics, here are some of my suggestions on how to give a femdom handjob:
Tips for How to Give a Femdom Handjob
Use Bondage
If you want things to be easy – and you wanna be lazy – bondage is #1 on this list. You don't need to go hardcore in order to make it feel like a femdom handjob. Just toss on some cuffs – maybe even bind them together – and you're already enjoying the added benefits of bondage.
You can go more hardcore if you want (like binding them to the bedframe, putting them into a straightjacket, or turning them into a saran wrap mummy), but that's entirely not required. Go with what you feel!
---
Deny the Orgasm
Another way to easily assert your femdom status is just to take control of when – or how – the orgasm happens. If you keep stroking him – but never quite let him orgasm until you're ready for him to orgasm – that's a very, very simple way to give a femdom handjob.
You can deny the orgasm entirely (and make him wait for another day), or you can just keep pushing it off (during this stroking session) until you decide that YOU want the handjob to end in orgasm. Either way works.
---
Make Him Stroke a Cock Too
I find this one to be really fun. Strap a dildo onto his body somewhere – or get a suction cup one that will somehow stay put with one-handed stroking. (Strap-on thigh harnesses and other hands-free toy methods can be really helpful for this.)
Now, make him watch what your hand is doing – and copy the exact same motions on the dildo. If he messes up or isn't doing exactly what you want, consider pausing the handjob – or counting up the misses until he hits a threshold where the handjob's resulting orgasm will be "ruined".
---
Use a Blindfold
More fun that can be lazy. Want to feel more in charge? Just toss a blindfold on his head. Simple, easy, cheap. Now he doesn't really know where sensation will come from next.
You can just stop giving a femdom handjob and take a break whenever you want – and he won't know when (or if!) the handjob will resume!
---
Use a Remote-Controlled Automated Penis Stroker
My sub and I have a bit of a machine fetish. That makes the KIIROO KEON a really good fit for us. But even if you don't, there can be something super-fun about using a third-party object to pleasure your partner while they lay back and enjoy it – and you control the object via remote. It's a fun way to give your partner a femdom handjob while really reinforcing a power exchange dynamic.
The KIIROO KEON connects to your cell phone for real-time control over the stroking that it provides. So your sub just holds it in place, and you get to lay back and watch his reactions as you increase or decrease the intensity and speed of the stroking with your remote or a cell phone. I LOVE this one.
(This one is particularly ripe for humiliation – if you want it to be. His penis "isn't even worth bothering to touch".)
---
Give Jerk Off Instructions Instead
If you don't feel like doing the physical stroking (so much work!), lay back, enjoy pleasuring yourself (if you want) with your favorite toys, and give him the exact, specific, instructions you expect him to follow to stroke himself. He does all of the work, you get to be all Domme-ly while doing virtually nothing, and you get an easy orgasm for yourself if you want.
You can consider doing this anytime his penis isn't easily accessible during sex acts too. Like if he's laying between your legs giving you oral sex, you can tell him exactly how to jerk himself off while he's pleasuring you.
---
Make Him View a Curated Selection of Porn
Tumblr used to be amazing for this, but it's still not the hardest thing to put together a selection of porn you want him to view while he's being sexually pleasured. I have a bit of a behavioral modification thing, so this fits in nicely. Even if you don't, consider a "theme" for the porn that focuses on things you want him to be aroused by.
For example, if you really want him to give more oral sex, consider theming the entire list around femdoms receiving oral sex. Make him sit (or view) the porn list as you give the handjob. Displaying it on a big screen (like a TV) makes sure you can see that he's paying attention, but you could display it in a VR headset if you wanted, too.
---
Make a SHITTY Curated Selection of Porn
Or, if you're a sadist like me, and find torturing your partner to be entertaining, consider making this a really bad selection of porn. Maybe it isn't even porn at all. Maybe he's going to be forced to watch a slideshow of expensive tables as he gets jerked off.
Again, I have a weird sense of humor. You may be starting to regret reading this how to give a femdom handjob article.
But you might start to share my sense of humor if he ever ends up seeing that table in a furniture store and gets horny by the sight of it.
---
Cock Hero
Speaking of porn, if you're not involved in the world of porn, you're probably unaware that there's something called "Cock Hero" out there. This is exactly what you think it would be (if you're a gamer).
It's a music video made with snippets of porn – with "stroke beats" built right into the "game" (the video) both visually and audibly. The idea behind the game is that you stroke the penis to the time of the beat while also watching the porn – and seeing how many "levels of difficulty" you can make it through.
(I still find this odd that there are entire communities of penis-owners finding ways to gamify jerking off while this is entirely missing from vaginal masturbation.)
Either way, putting on a Cock Hero video (available on most tube sites) and having fun stroking the cock you own in time with the music can be really, really fun. It's like your own little joystick!
---
Make Him Hold a Toy
If you want to make him "earn" his handjob, a fun way to assert your dominance while giving a femdom handjob is just to make him into a glorified sex toy holder. Require him to hold your favorite sex toy – and enjoy yourself on it – while he receives the handjob.
If he moves the toy or isn't holding it properly, cease the handjob until he gets it back into place. This works particularly well with wand massagers because their large, broad heads can move around a lot without moving away from "the spot" you need it to be at.
---
Do Something Else
A surprisingly large subset of submissives have a slight ignore kink. And you know what? I enjoy TV shows and reading sometimes and have very little interest in having sex at that moment. Why not mix the two? Completely ignore him as you pay attention to your item of choice while half-assed-ly giving a femdom handjob. Bonus points if you make him provide part of the non-sexual experience for you. Like holding your book still – and forcing him to turn the pages for you because your hands are otherwise occupied. Or forcing him to hold the remote and adjust the volume.
---
Ruin the Orgasm
Have you heard of ruined orgasms? You probably have even experienced one yourself (I don't know of many femdoms who haven't!).
A "ruined orgasm" is when you reach the pinnacle of orgasm – where you know you're going to orgasm and it's unavoidable – but the stimulation changes or stops right as you get there. This leads to an "orgasm" that feels so frustrating and lackluster (after so much pleasurable build-up) that you might want to scream.
Did you know you can cause those intentionally? Yep, you can. If you're looking for different ways to change up how to give a femdom handjob, that's definitely one of them. Just make sure to communicate about it beforehand and know if that's something your submissive is open to! It's frustrating for everyone, but some people find it the "fun" type of frustrating.
---
Give Them "Femdom Handjob" Panties
This one is particularly fun and adds some anticipation.
Find a pair of feminine underwear (my How to Find Men's Lingerie article is super helpful there!), and designate it the "femdom handjob" underwear. When he's assigned to wear those panties for the entire day, he has a chance of being rewarded with a handjob at the end of all of it.
Not only will he be excited and ready for you (virtually all day long!), but it gives you an easy way to opt into sexual activity when you know you're going to be feeling it on a specific day.
---
Use Something VERY Stimulating – and Humiliate Them for It
Start with a very, very stimulating sex toy. If that isn't possible, pull out the "big guns". You know, the femdom handjob movements that you only reserve for when you're trying to get him to cum as quickly as possible.
Now that you have ultra-sensational options, your goal is to make them cum – as quickly as possible – and then make fun of them for it. If you're using a penis toy, you can warm it ahead of time to make it extra sensational.
This works particularly well if your submissive is into small penis humiliation – or cuckolding. You can tell them all about how they'll only be getting femdom handjobs from now on – because they clearly can't last long enough to be inside you.
---
Speak some Dirty Words
I put this at the end of the list for a very specific reason: a lot of femdoms still find dirty talk to be surprisingly difficult. I'm not going to claim I'm not one of those people either. I still can find it awkward and weird sometimes – like I'm some porn actress "pretending" to be a femdom. Ack.
That being said, sometimes it's just really, really fun to tease someone while you're giving them a handjob – femdom handjob or not. This is where knowing your partner's kinks comes in handy. You can mix-in virtually any kinks to a femdom handjob – and get some dirty talk to go with it. Find what feels at least somewhat fun for you – and have fun with it (if you want!).
Some femdom handjob dirty talk suggestions:
Look at how nice I'm being! You know, I don't have to touch this silly dick of yours, but I'm choosing to spend my time pleasuring you. How are you going to make it worth my while later?
Aww, it's so little! I don't even need two hands. Do you think I can get away with a few fingers?
Stay still. If you move even an inch, it's going to bother what I'm doing, and I'll have to stop. You don't want me to stop, do you?
You're already close to cumming? Do you even think you could last long enough to have sex with me? I'm not sure it's really worth it. I guess you could strap-on this dildo instead.
Enjoying yourself? Do you think it would be better if I used my feet?
I'm tired of stroking you. This bores me. Just hump my leg like the dog you are instead.
Note on Obtaining Consent!
I didn't want to make footnotes in every single point about obtaining consent, but just like any sexual activity, you should have consent about any activity (or additional activity!) before doing it during sex. Just because your submissive has agreed to handjobs – doesn't mean he agreed to ruined orgasms or bondage during that handjob.
As always, make sure you have consent from your submissive, have your safe word if need be, and know what your partner's interest level is going to be for the activities that you're hoping to do during your femdom handjob.
(Note: Femdom couples with non-penis-owning subs are just as valid as those with penis-owning subs! As this article focuses on handjobs, though, which are generally done to peens, this article mostly uses he/his pronouns. All pronouns are totally welcome, however, and many of these techniques can be used to give femdom fingering too!)